BLANCHARDS COVID-19 RELIEF FUND
We know the world is struggling in the fight against COVID-19 and we're all in this together.
Although it's uncomfortable to ask, if you are able, we would greatly appreciate your help.
The people of Anguilla are facing the worst economic disaster the island has ever seen.
LEARN MORE
Event Venues
Our beachside Anguilla restaurants offer complete privacy where you can connect with your guests to make lasting memories together.
With two restaurants and a pristine beach location, Blanchards and the Beach Shack are the ideal setting for any corporate event, Anguilla wedding, incentive group, rehearsal dinner, or Anguilla welcome party.
With over 25 years of experience, Blanchards reputation is one of the best in the Caribbean. We will pamper your guests with the same outstanding service and culinary excellence offered at both restaurants.
blanchards restaurant
Menu
Choice of: Plated Dinner or Food Stations.
GUEST COUNT
51 – 125 Dining Room
126 – 170Dining Room w/ Attached Tent
171 – 250Freestanding Tent(s)
DESCRIPTION
Exclusive use of Blanchards Restaurant inside and out as a full buyout.
FEES
Variable venue fee depending on group size and date.
Food and beverage minimums will be applied.
Imagine "owning" Blanchards for your private Anguilla event. Picture your evening as guests arrive to exquisitely prepared hors d'oeuvres on the beach, with the Caribbean Sea just steps away and the sound of lapping waves and steel drums filling the air. As the warm sun begins to set, your guests will stroll inside for a superb meal served in our relaxing open-air dining room.
We offer 2 types of service for private events at Blanchards.
PLATED DINNERS
Customize your event menu with a choice of starters, shared dishes, main courses, and desserts. Chef Melinda Blanchard has curated a menu of innovative dishes with a global influence and bold flavors. Choices include Blanchards best-selling dishes such as Warm Brussel Sprout Caesar, Sesame Crusted Sea Bass, Grilled Tenderloin of Beef, and our famous Cracked Coconut dessert, just to name a few.
Passed hors d'oeuvres and cocktails on the beach during sunset is a spectacular way to start the evening!
FOOD STATIONS
For groups of 75 people or more, consider a festive beach party with food stations. Our creative, interactive stations are set-up on the beach and can be designed to suit virtually any taste. With many stations to choose from, we'll work with you to design the best assortment for your event. Some of our favorites include a Taco Bar with homemade corn tortillas prepared in front of your guests, a Caribbean Jerk Station with authentic island flavors and a fun S'mores Bar for dessert.
Request Proposal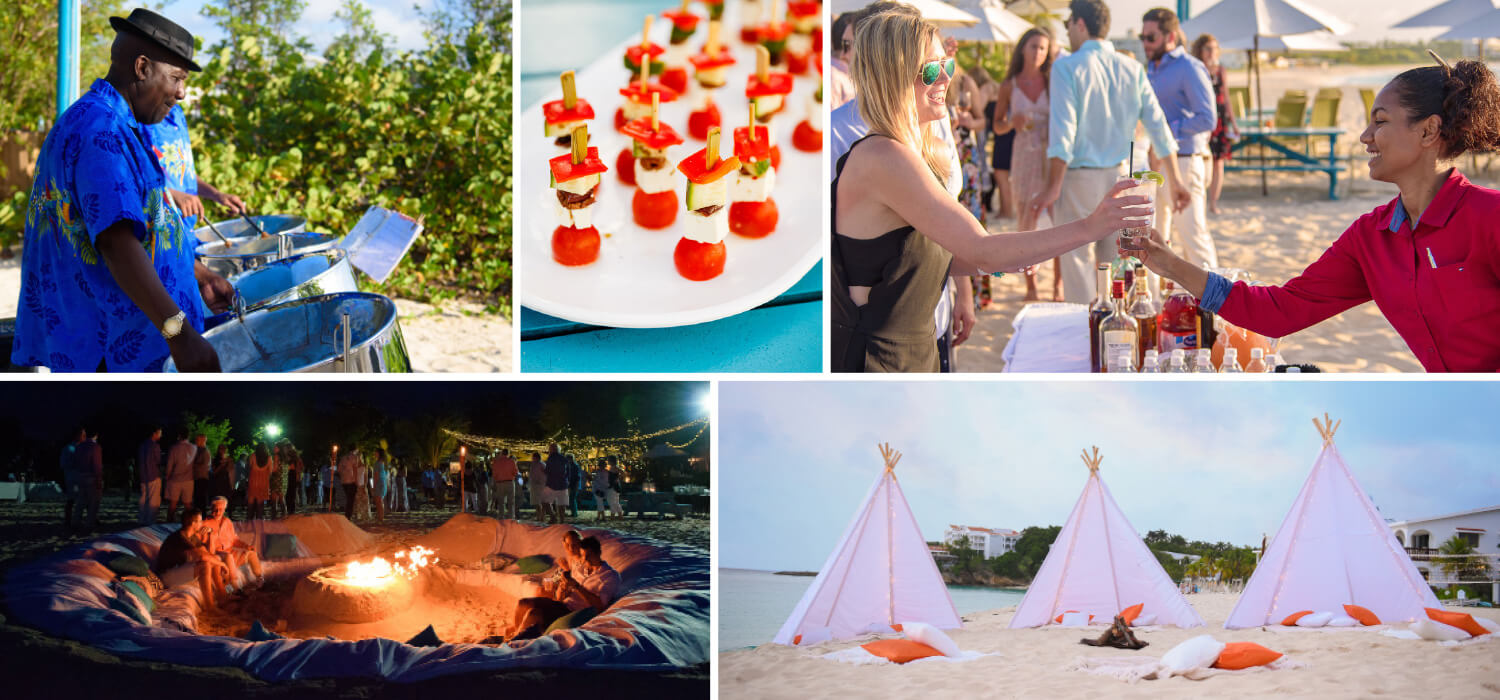 PASSED HORS D'OEUVRES
Almost all of our events start with a cocktail hour and passed hors d'oeuvres on the beach. We will work with you to choose the best assortment for your group from our delicious options. Although it depends on the size of your event, we typically offer an assortment of 6 selections.
Available at Blanchards Restaurant only.
BEVERAGE SERVICE
Our bar package has just as much variety as our food service with Caribbean cocktails, Blanchards legendary rum punch and sangria and a carefully chosen wine list.
Blanchards is also well known for its wide selection of rum with over 180 on the list! Adding a rum bar and/or tequila station is always a fun way to give your guests a true taste of the islands.
Bar service is based on consumption. If you're looking for a specialized cocktail to serve at your event or have a preference for a particular kind of liquor, just let us know. We can get whatever you want. Of course, we also offer an assortment of beer and non-alcoholic beverages.
BEACH SHACK
GUEST COUNT
50 – 175with existing seating
176 – 250with rental tables & chairs
DESCRIPTION
Exclusive use of the Beach Shack for a full buyout.
FEES
Variable venue fee depending on group size and date.
Food and beverage minimums will be applied.
For a casual Anguilla event, Blanchards Beach Shack offers a postcard-perfect setting with a "toes-in-the-sand" experience for lunch or dinner.
Picture your event with guests arriving through a meandering tropical garden to the iconic and colorful Blanchards Beach Shack. Caribbean blue picnic tables are arranged with casual nibbles like peel and eat shrimp and homemade tortilla chips with guacamole. Your guests can enjoy refreshing pitchers of rum punch as they watch the sunset over Meads Bay. This is a typical start to a Beach Shack dinner party with twinkle lights glowing above as you dine under the stars.
We offer family-style service for private events at the Beach Shack.
FAMILY-STYLE
We will work with you to create a customized selection from the Beach Shack menu. Popular choices are mahi tacos with hand-pressed tortillas, kale salad with fresh lemon and Parmesan, Caribbean cornbread, and big bowls with jerk chicken. A typical Beach Shack event dessert selection includes platters of homemade chocolate chip cookies and brownies and a choice of ice cream treats that guests can order a la carte from the Beach Shack window.
Passed hors d'oeuvres and/or a private bar are optional and can add even more fun to your event.
Request Proposal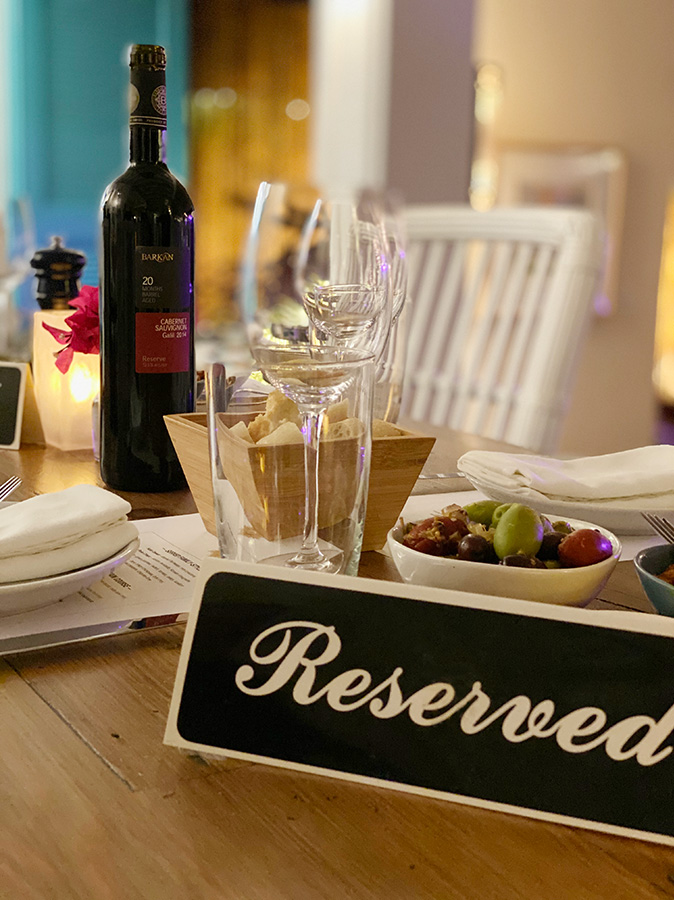 Group Reservations
If your group does not require a full buyout, we offer semi-private events at both restaurants. We suggest this option for groups of fewer than 50 people. Please request a proposal for more information.
Off-site Catering
Blanchards offers the same exceptional food for catering services for groups of 50 or more to select locations in Anguilla. Please contact us for more information.
Room Drops
Guests love finding gifts in their room related to their event! We offer Blanchards gifts as room drops for incentive groups, weddings, and corporate events.